Overall Score: 0.0
REITRating is REITNote's Real Estate Investment Trust industry-specific rating and ranking system. The overall score is out of ten points, with ten being the best score. Learn More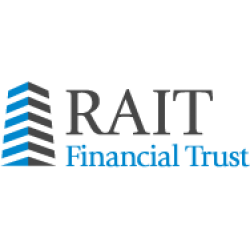 RAIT Financial Trust ("RAIT") (NYSE: RAS) is an internally-managed real estate investment trust ("REIT") focused on providing debt financing options to owners of commercial real estate ("CRE") throughout the United States. Additionally, RAIT owns a portfolio of CRE properties located throughout the United States. Since RAIT was formed in 1997, we have built a reputation for consistently executing efficiently with borrowers and their intermediaries by maximizing our experience in commercial real estate, deal structuring, and structured finance to deliver effective property-level financing solutions. We work closely with our borrowers to meet their financing objectives. RAIT utilizes its in-house commercial real estate lending platform to originate, underwrite, close and service quality lending opportunities. These directly originated opportunities are vetted through RAIT's credit and risk management processes. The loans we make are secured by income-producing properties, including apartment, office and light-industrial properties and neighborhood retail centers.
| Rating | Dividend Section | Avg. Rating |
| --- | --- | --- |
| 0 | Dividend Payment Consistency: Analysis of how many periods the REIT's dividends have been paid consistently without a gap in payment. | 6.7 |
| Rating | AFFO & Efficiency Section | Avg. Rating |
| Rating | Leverage Section | Avg. Rating |
| Rating | Asset & Revenue Section | Avg. Rating |
| Rating | Properties Section | Avg. Rating |
| Rating | Market Cap Section | Avg. Rating |
| | | |
| 0.0 | Overall REITRating™ Score | 6.4 |
REITRating is REITNote's Real Estate Investment Trust industry-specific rating and ranking system. The REIT's score for each analysis is out of ten points, with ten being the best score and zero being the worst. A score of zero can be assigned if the REIT does not meet the criteria for that specific analysis. N/A is assigned if insufficient data is available for a particular analysis. Our REITRating logic is continuously improving, so a REIT's rating and ranking may change over time. Important Note: REITRating is not a predictor of a REIT's future performance, it is an evaluation of its past results. Additionally, the REITRating system is for informational purposes only and does not represent financial or investment advice or a recommendation of which REITs to acquire. Learn more.
---