Symbol: PEI
CIK: 77281
Exchange: NYSE
Founded: 1960 (59 years)
HQ: Philadelphia, PA, United States
Type of REIT: Equity REIT
Listing Status: Public
Market Capitalization: Small-Cap
REIT Sector: Retail

See PEI on Google Finance
See PEI on Yahoo Finance
See PEI on SEC.gov


| Rating | Dividend Section | Avg. Rating |
| --- | --- | --- |
| 3 | Dividend Payment Growth: Analysis of how the REIT's dividend payments have performed during the last three years. | 5.5 |
| 8 | Dividend Payment Consistency: Analysis of how many periods the REIT's dividends have been paid consistently without a gap in payment. | 4.5 |
| 9 | Dividend to AFFO Payout Ratio Health: Analysis of the REIT's Dividend to AFFO Payout Ratios during the last four quarters. | 6.9 |
| 10 | Dividend to AFFO Payout Ratio Trend: Analysis of the REIT's Dividend to AFFO Payout Ratios trend during the last two years. | 5.8 |
| 8 | AFFO Trend: Analysis of the REIT's AFFO trend during the last two years. | 7.0 |
| 7.6 | Overall Dividend Section Rating: The REIT's total dividend score from the compilation of the below dividend analysis. | 6.8 |
---
| Rating | Leverage Section | Avg. Rating |
| --- | --- | --- |
| 1 | Interest Coverage Health: Analysis of the REIT's Interest Coverage health during the last four quarter. | 6.6 |
| 0 | Interest Coverage Health Trend: Analysis of the REIT's Interest Coverage health trend during the last two years. | 7.3 |
| 9 | Total Debt Interest Rate Competitiveness: Analysis of the REIT's Interest Rate to Total Debt competitiveness compared to REIT market. | 8.0 |
| 8 | Total Debt Interest Rate Trend: Analysis of the REIT's Interest Rate to Total Debt trend during the last two years. | 8.0 |
| 4 | Debt Leverage Health: Analysis of the REIT's Total Debt to Total Assets. | 6.3 |
| 6 | Debt Leverage Health Trend: Analysis of the REIT's Total Debt to Total Assets over the last two years. | 7.1 |
| 4.7 | Overall Leverage Section Rating: The REIT's total Debt Leverage score from the compilation of the above Debt analysis. | 7.5 |
---
| Rating | Asset & Revenue Section | Avg. Rating |
| --- | --- | --- |
| 6 | G&A Effeciency Level: Analysis of the REIT's General and Administrative expenses in relationship to its Revenues. | 6.9 |
| 7 | G&A Effeciency Trend: Analysis of the Trend of the REIT's General and Administrative expenses in relationship to its Revenues. | 7.7 |
| 5 | Revenues Growth: Analysis of how the REIT's Revenue has performed over the last two years. | 6.9 |
| 4 | Total Asset Growth: Analysis of how the REIT has grown its Total Assets over the last two years. | 7.3 |
| 5.5 | Overall Asset & Revenue Section Rating: The REIT's total Asset, Revenues, and Administrative expenses score from the compilation of the above analysis. | 7.2 |
---
5.9 Overall REITRating™ Score
REITRating is REITNote's Real Estate Investment Trust industry-specific rating and ranking system. The REIT's score for each analysis is out of ten points, with ten being the best score and zero being the worst. A score of zero can be assigned if the REIT does not meet the criteria for that specific analysis. N/A is assigned if insufficient data is available for a particular analysis. Our REITRating logic is continuously improving, so a REIT's rating and ranking may change over time. Important Note: REITRating is not a predictor of a REIT's future performance, it is an evaluation of its past results. Additionally, the REITRating system is for informational purposes only and does not represent financial or investment advice or a recommendation of which REITs to acquire. Learn more.
See in Advanced Graph View
Open Price:
$4.62
Closing Price:
$4.62
Price Change:
0.07
(
1.538%
)
Lowest Price:
$4.57
Highest Price:
$4.715
52-Week Low:
$4.37
52-Week High:
$10.89
52-Week Change:
-57.14%
5 Day Price Change:
-15.43%
1 Month Price Change:
-22.88%
3 Month Price Change:
-31.99%
6 Month Price Change:
-33.19%
YTD Price Change:
-25.65%
1 Year Price Change:
-57.79%
2 Year Price Change:
-36.32%
5 Year Price Change:
-55.35%
Dividend Yield:
18.182%*
Annualized Dividend:
$0.84*
Dividend Yield (TTM):
Annualized Dividend (TTM):
$0.84
Ex Dividend Date:
2019-08-30
Dividend Frequency:
Quarterly
*The forward annualized dividend and dividend yield are based on the most recent dividend value paid by the REIT. The REIT may have already announced their next upcoming dividend value, which may be different from previously paid dividend value. It is recommended to check the REIT's website and dividend announcements for the latest information on upcoming dividends and changes.
19 Aug 2019 05:55:48 -0500 - Preit - PREIT Spotlights Near-Term Activity Driving Future Growth and Portfolio Strength
30 Jul 2019 15:36:12 -0500 - Preit - PREIT Reports Second Quarter 2019 Results and Updates Full Year Expectations
30 Jul 2019 06:05:03 -0500 - Preit - Interactive First-to-Market Experience Wonderspaces to Join Fashion District
25 Jul 2019 15:49:19 -0500 - Preit - PREIT Declares Quarterly Dividend for Common and Preferred Shares
22 Jul 2019 06:12:32 -0500 - Preit - PREIT Highlights Department Store Replacement Success
See more news headlines for Pennsylvania Real Estate Investment Trust, Inc.
Login to see Funds From Operations (FFO)
Total Cash:
$32,445,000
Current Debt:
$18,561,000
Revenue:
$364,600,000
Gross Profit:
$87,370,000
Total Revenue:
$364,600,000
Earnings Before Interest, Taxes & Depreciation Amortization (EBITDA):
$186,276,000
Revenue Per Share:
$5
Revenue Per Employee:
$1,330,657
Employee:
274
Debt to Equity Ratio (D/E):
3.77
Profit Margin:
-0.30%
Enterprise Value (EV):
$1,975,169,520
Enterprise Value to Revenue (EV/R):
5.42
Price to Sales (P/S):
0.95
Price to Book (P/B):
0.80
Peg Ratio:
0.04
P/E Ratio:
-2.57
P/E High:
-6.02
P/E Low:
-2.42
Forward P/E Ratio:
-7.22
Market Capitalization:
$358,276,380
Beta:
1.11
Latest Volume:
1,163,335.00
Avg. Total Volume:
1,825,066
Avg. 10 Volume:
1,982,293.10
Avg. 30 Volume:
1,825,066.30
TTM EPS:
-1.80
TTM Dividend Rate:
0.84
Shares Outstanding:
77,549,000
Float:
60,195,007.23
50-Day Moving Avg.:
6.11
200-Day Moving Avg.:
6.70
Taubman Centers is a part of the S&P400 MidCap Index, and the company also states to have a portfolio of malls that is the most productive in the U.S. publicly held mall sector, which is an awesome claim. Which #TCO supports by showing that it has the highest portfolio sales per square foot. In March 31, 2019, TCO $919 Sales/SqF compared to #MAC at $746Sales/SqF, #SPG $660 Sales/SqF, #PEI $499 Sales/SqF, #WPG $399 Sales/SqF, #SKT $398 Sales/SqF, CBL $377 Sales/SqF. Also, impressively comparable is what TCO can charge for rent per square foot compared to its comparable Mall REITs. In March 31, 2019, TCO $62.16 Avg. Rent/SqF. compared to MAC at $60.74 Avg. Rent/SqF., SPG $54.34 Avg. Rent/SqF., CBL $32.45 Avg. Rent/SqF., and WPG $28.98 Avg. Rent/SqF. Taubman also has malls in China, and South Korea, not only the USA, which may help to slow down any impacts in malls falling out of preference in the US market. - LLNN -

2019-08-11 22:24:10

- See full comment
Glad to see #PEI continues replacing Sears stores with new tenants. Also, look forward to seeing more details on their initiative to create 5,000 to 7,000 multifamily units in their mall properties in DC and Philly. - CapitalKing -

2019-06-19 17:26:44

- See full comment
See more community comments related to PEI
Sample of REIT's Properties (Image Source - REIT's website) | See more pictures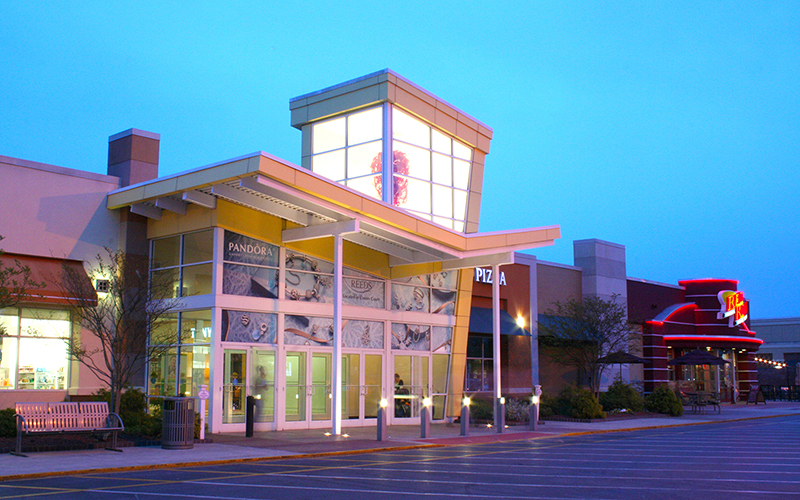 See list of properties owned by PEI
Please visit this REIT's official webpage to learn more.
Below are the most recent cash dividends paid by PEI, and the Ex-Dividend Date of the dividend. The percent difference from one dividend payment to the next has also been calculated for your convenience.
Symbol
Ex Date
Cash Amount
Change in Dividend
Declaration Date
Record Date
Payment Date

Login to see Dividend History
See Annual Balance Sheet | See Quarterly Balance Sheet
Amounts in USD ($)
| Balance Sheet | 2019-06-30 | 2019-03-31 | 2018-12-31 | 2018-09-30 |
| --- | --- | --- | --- | --- |
| Current Cash | 26,532,000 | 22,642,000 | 32,445,000 | 32,024,000 |
| Receivables | 0 | 0 | 0 | 0 |
| Inventory | 0 | 0 | 0 | 0 |
| Current Assets | 0 | 0 | 0 | 0 |
| Current Assets (Other) | 0 | 0 | 0 | 0 |
| Short Term Investments | 0 | 0 | 0 | 0 |
| Long-term Investments | 153,318,000 | 149,795,000 | 131,124,000 | 120,915,000 |
| Property, Plant & Equipment Net | 17,700,000 | 0 | 0 | 0 |
| Goodwill | 0 | 0 | 5,249,000 | 0 |
| Intangible Assets | 15,963,000 | 17,020,000 | 12,619,000 | 17,360,000 |
| Other Assets | 78,732,000 | 130,288,000 | 118,751,000 | 134,187,000 |
| Net Tangible Assets | 424,713,000 | 462,703,000 | 402,121,000 | 518,324,000 |
| Total Assets | 2,374,933,000 | 2,390,471,000 | 2,405,114,000 | 2,480,319,000 |
| Accounts Payable | 0 | 0 | 0 | 0 |
| Liabilities (Other) | 177,214,000 | 193,283,000 | 198,368,000 | 174,699,000 |
| Current Liabilities (Other) | 89,652,000 | 91,227,000 | 92,057,000 | 92,682,000 |
| Total Current Liabilities | 0 | 0 | 0 | 0 |
| Current Long-term Debt | 9,121,000 | 13,598,000 | 18,561,000 | 4,270,000 |
| Long-term Debt | 1,543,748,000 | 1,519,643,000 | 1,641,634,000 | 1,594,976,000 |
| Total Liabilities | 1,912,083,000 | 1,888,524,000 | 1,858,563,000 | 1,810,945,000 |
| Minority Interest | -329,000 | -1,688,000 | -10,052,000 | -891,000 |
| Common Stock | 77,547,000 | 77,383,000 | 70,495,000 | 70,473,000 |
| Retained Earnings | -1,371,499,000 | -1,342,626,000 | -1,306,318,000 | -1,205,896,000 |
| Treasury Stock | 0 | 0 | 0 | 0 |
| Capital Surplus | 1,763,798,000 | 1,761,736,000 | 1,671,042,000 | 1,669,239,000 |
| Shareholder Equity | 458,125,000 | 496,114,000 | 440,781,000 | 550,475,000 |
See Annual Income Statement | See Quarterly Income Statement
Amounts in USD ($)
| Income Statement | 2019-06-30 | 2019-03-31 | 2018-12-31 | 2018-09-30 |
| --- | --- | --- | --- | --- |
| Total Revenue | 80,192,000 | 84,105,000 | 99,242,000 | 87,103,000 |
| Cost of Revenue | 66,991,000 | 71,319,000 | 69,129,000 | 68,799,000 |
| Gross Profit | 13,201,000 | 12,786,000 | 30,113,000 | 18,304,000 |
| Research and Development | 0 | 0 | 0 | 0 |
| Selling General and Admin | 0 | 0 | 0 | 0 |
| Operating Expense | 77,317,000 | 81,237,000 | 78,754,000 | 76,821,000 |
| Operating Income | 2,604,000 | 1,855,000 | 20,053,000 | 10,068,000 |
| Income Expense Net (Other) | -8,684,000 | -18,078,000 | -108,887,000 | -11,704,000 |
| EBIT | 2,604,000 | 1,855,000 | 20,053,000 | 10,068,000 |
| Interest Income | 14,354,000 | 14,698,000 | 18,491,000 | 14,181,000 |
| Pretax Income | -6,080,000 | -16,223,000 | -88,834,000 | -1,636,000 |
| Income Tax | 0 | 0 | 0 | 0 |
| Minority Interest | -329,000 | -1,688,000 | -10,052,000 | -891,000 |
| Net Income | -5,975,000 | -14,753,000 | -78,912,000 | -881,000 |
| Net Income Basic | -12,819,000 | -21,597,000 | -85,756,000 | -7,724,000 |
See Annual Cash Flow | See Quarterly Cash Flow
Amounts in USD ($)
| Cash Flow | 2019-06-30 | 2019-03-31 | 2018-12-31 | 2018-09-30 |
| --- | --- | --- | --- | --- |
| Net Income | -5,975,000 | -14,753,000 | -78,912,000 | -881,000 |
| Depreciation | 33,229,000 | 36,191,000 | 33,359,000 | 34,099,000 |
| Changes in Receivables | 0 | 0 | 0 | 0 |
| Changes in Inventories | 0 | 0 | 0 | 0 |
| Cash Change | 3,890,000 | -9,803,000 | 421,000 | -24,746,000 |
| Cash Flow | 39,267,000 | 23,003,000 | 40,650,000 | 19,108,000 |
| Capital Expenditures | -43,465,000 | -34,521,000 | -35,645,000 | -37,225,000 |
| Investments | 13,920,000 | -6,183,000 | -5,155,000 | -15,663,000 |
| Investing Activity (Other) | -156,000 | -320,000 | -12,022,000 | 0 |
| Total Investing Cash Flows | -27,501,000 | -38,749,000 | -41,699,000 | -52,888,000 |
| Dividends Paid | -23,123,000 | -21,773,000 | -21,640,000 | -21,639,000 |
| Net Borrowings | 15,375,000 | 29,740,000 | 24,555,000 | 32,208,000 |
| Cash Flow Financing | -7,876,000 | 5,943,000 | 1,470,000 | 9,034,000 |
| Financing Cash Flows (Other) | -464,000 | -1,698,000 | -1,737,000 | -1,738,000 |
| Exchange Rate Effect | 0 | 0 | 0 | 0 |
PREIT is a publicly traded real estate investment trust specializing in the ownership and management of differentiated shopping malls. Headquartered in Philadelphia, Pennsylvania, the company owns and operates over 25 million square feet of retail space in the eastern half of the United States with concentration in the Mid-Atlantic region's top MSAs. Since 2012, the company has driven a transformation guided by an emphasis on balance sheet strength, high-quality merchandising and disciplined capital expenditures
---