Symbol: GOV new symbol: OPI
Exchange: NASDAQ
Founded: 2009
HQ: Newton, MA, United States
Type of REIT: Equity REIT
Listing Status: Public
Market Capitalization: Small-Cap
REIT Sector: Office
Externally Managed REIT
About Government Properties Income Trust, Inc.
[Ticker Symbol has Changed]
GOV is a real estate investment trust, or REIT, which primarily owns properties located throughout the United States that are majority leased to the U.S. Government and other government tenants and office properties in the metropolitan Washington, D.C. market area that are leased to government and private sector tenants. GOV is managed by the operating subsidiary of The RMR Group Inc. (Nasdaq: RMR), an alternative asset management company that is headquartered in Newton, Massachusett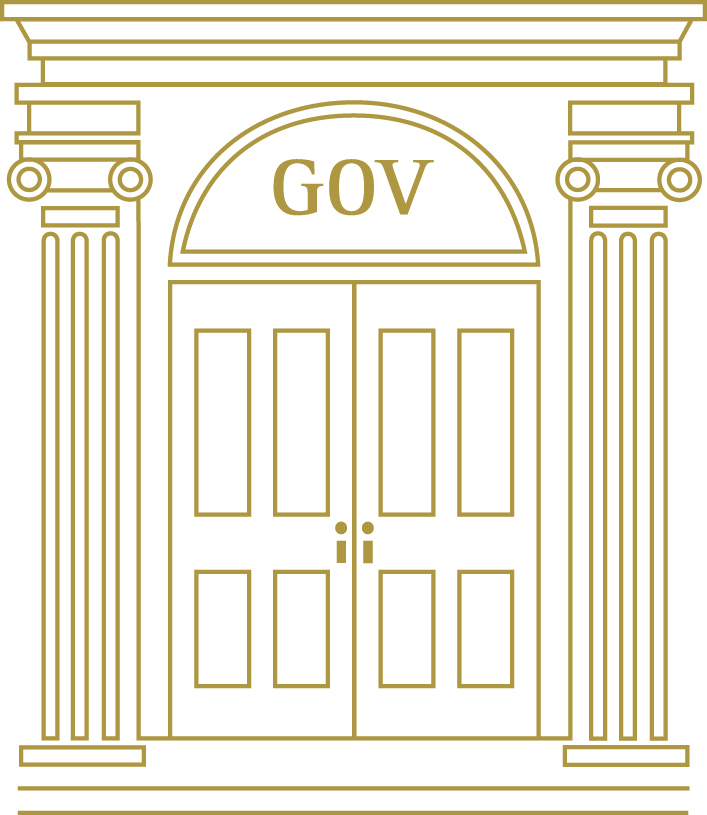 Stock Chart
N/A
Dividend Yield:
0%*
Annualized Dividend:
$0*
Dividend Yield (TTM):
0%
Annualized Dividend (TTM):
$0
Ex-Dividend Date:
Next Ex-Dividend:
Dividend Frequency:
Quarterly
*The forward annualized dividend and dividend yield are based on the most recent dividend value paid by the REIT. The REIT may have already announced their next upcoming dividend value, which may be different from previously paid dividend value. It is recommended to check the REIT's website and dividend announcements for the latest information on upcoming dividends and changes. This graph does not include extraordinary dividend.
This section requires a Professional Pass membership, please
learn more
.
FFO Amount and Payout Ratio
Below are the FFO amounts, dividends, and payout ratios for the last two quarters for GOV.
| Year | Quarter | Type | Amount | Dividend Paid | Payout Ratio |
| --- | --- | --- | --- | --- | --- |
| 2018 | Q3 | Normalized FFO | $--- | $--- | ---% |
| 2018 | Q3 | FFO | $--- | $--- | ---% |
| 2018 | Q2 | FFO | $--- | $--- | ---% |
| 2018 | Q2 | Normalized FFO | $--- | $--- | ---% |
REITNotes uses the REIT's Funds From Operation (FFO) per diluted share informed in the REIT's Quarterly Earning Reports and its announced dividend per diluted share. For some REITs, we also display the Adjusted Funds From Operations (AFFO), Core FFO, Normalized FFO (NFFO), Modified FFO (MFFO), Operating FFO as provided by the REIT. REITNotes™ calculates the payout ratio by dividing the dividend value paid during the current quarter by the FFO declared in the previous Quarter. E.g., we divide the dividend value paid in Q3 by the FFO reported in Q2. This is because although paid in Q3, the dividend value is usually declared during the previous quarter. FFO is a non-GAAP measure recognized by the SEC and provided by the REITs as a supplemental measure of their operating performance. FFO is not meant to be an indicator of the REIT's capacity to pay current or future dividends nor to be a substitute to the REIT's cash flow from operations. It is recommended to check the REIT's website, Earning Reports and dividend announcements for the latest and updated information.
---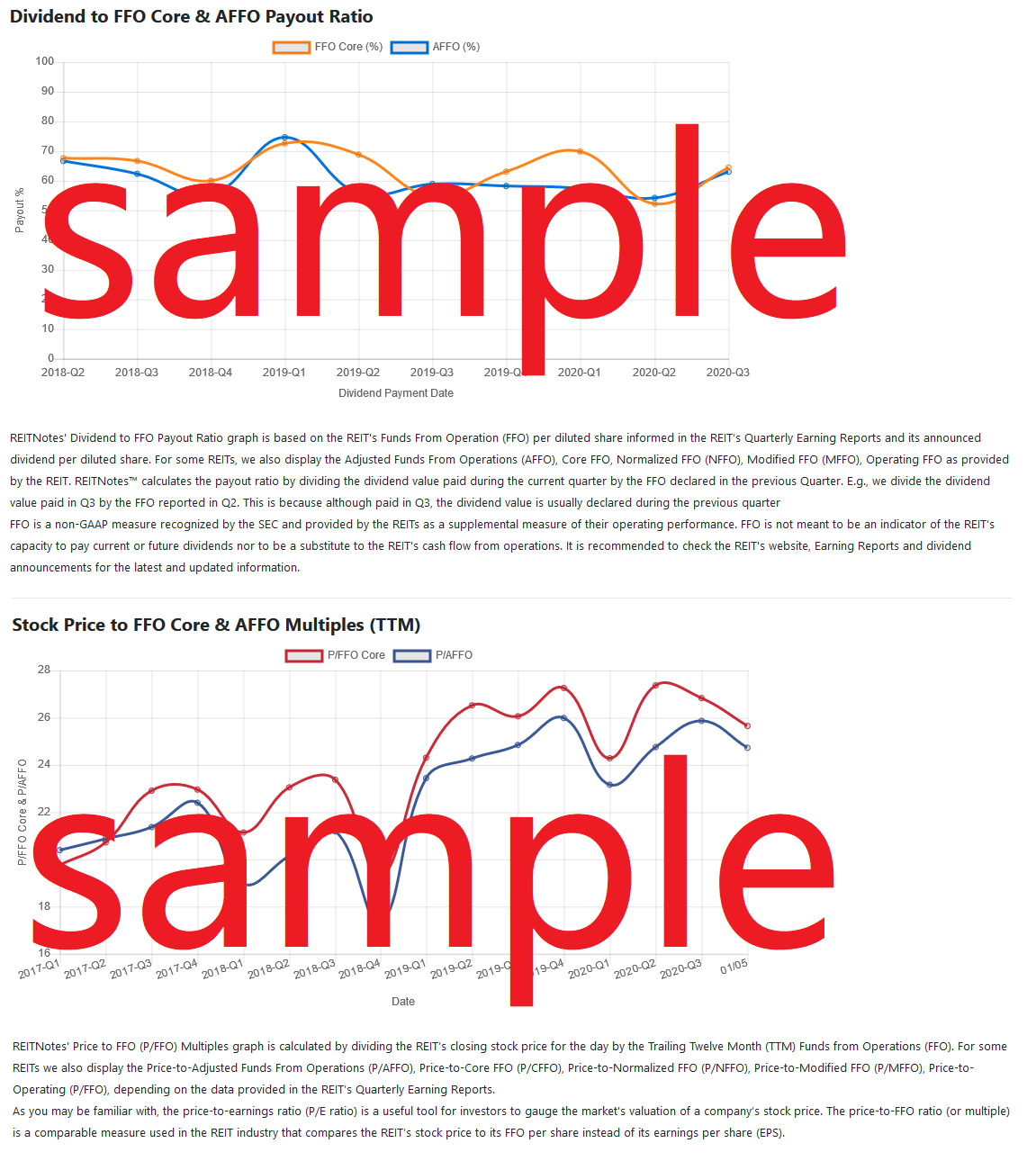 Total Cash:
---
Current Debt:
---
Revenue:
---
Gross Profit:
---
Total Revenue:
---
Earnings Before Interest, Taxes & Depreciation Amortization (EBITDA):
---
Revenue Per Share:
---
Revenue Per Employee:
---
Employee:
---
Debt to Equity Ratio (D/E):
---
Profit Margin:
---
Enterprise Value (EV):
---
Enterprise Value to Revenue (EV/R):
---
Price to Sales (P/S):
---
Price to Book (P/B):
---
Price/Earnings-to-Growth (PEG) Ratio:
---
P/E Ratio:
---
P/E High:
---
P/E Low:
---
Forward P/E Ratio:
---
Market Capitalization:
---
Beta:
---
Latest Volume:
---
Avg. Total Volume:
---
Avg. 10-Day Volume:
---
Avg. 30-Day Volume:
---
TTM EPS:
---
Shares Outstanding:
---
Float:
---
50-Day Moving Avg.:
---
200-Day Moving Avg.:
---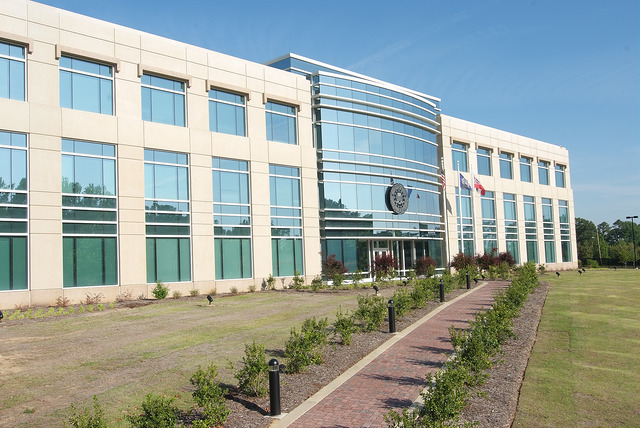 Sample of REIT's Properties. Image Source - REIT's website
| Symbol | Ex Date | Cash Amount | Change in Dividend | Declaration Date | Record Date | Payment Date |
| --- | --- | --- | --- | --- | --- | --- |
| --- | --- | --- | --- | --- | --- | --- |
See Annual Balance Sheet | See Quarterly Balance Sheet
See Annual Income Statement | See Quarterly Income Statement
See Annual Cash Flow | See Quarterly Cash Flow
Last updated: 2023-11-29 - v4.8